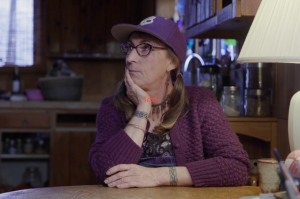 After driving in and out of the Shell station parking lot six times, Paula Danaher finally parked her 10-year-old grey SUV and sat sweating through her new belted plaid shirt dress. "The sooner you do this, the easier it's going to be," she told herself, lighting another smoke.
The Shell station, or as the locals say "the Valley View," is at the crossroads in Midland, about 60 kilometres northeast of the port city of Saint John in the Bible belt of southeastern New Brunswick.
It's the de facto social and commercial hub, where you can buy a cup of coffee, rent movies for $3.99, pump first and pay after. Store clerks greet the patrons by name. Many wear woodsy camo or ankle-skimming skirts with long hair pulled back into black-capped buns. Country music plays on a boom box and there's a waft of manure in the air.
Until that fall morning of 2016, the community had always known Paula as Paul: as the reserved elfin boy and the youngest of four from a divorced family the next town over. Then later, as the married father of two with a scruffy beard and a short fuse who stopped into the Shell almost daily for a black medium coffee, a pack of Rothmans or $20 worth of gas.
Paula lives in Hatfield Point, population 200, "on the Belleisle," a meandering bay that carves through the string of roadside settlements, where the pace of life is akin to the lazy flow of the Saint John River. The communities are isolated by low rolling hills of the Appalachian Mountain Range. The church parking lots are full on Sundays.
There had never been an openly transgender person in the rural area. At the age of 42, Paula was about to change that.
Please read the full article by going to the link below.
Lindsay's 2018 Globe and Mail feature story In rural New Brunswick, a transgender woman charts a new path won gold in two categories at the Digital Publishing Awards.