TREV BUNGAY/FACEBOOK/THE CANADIAN PRESS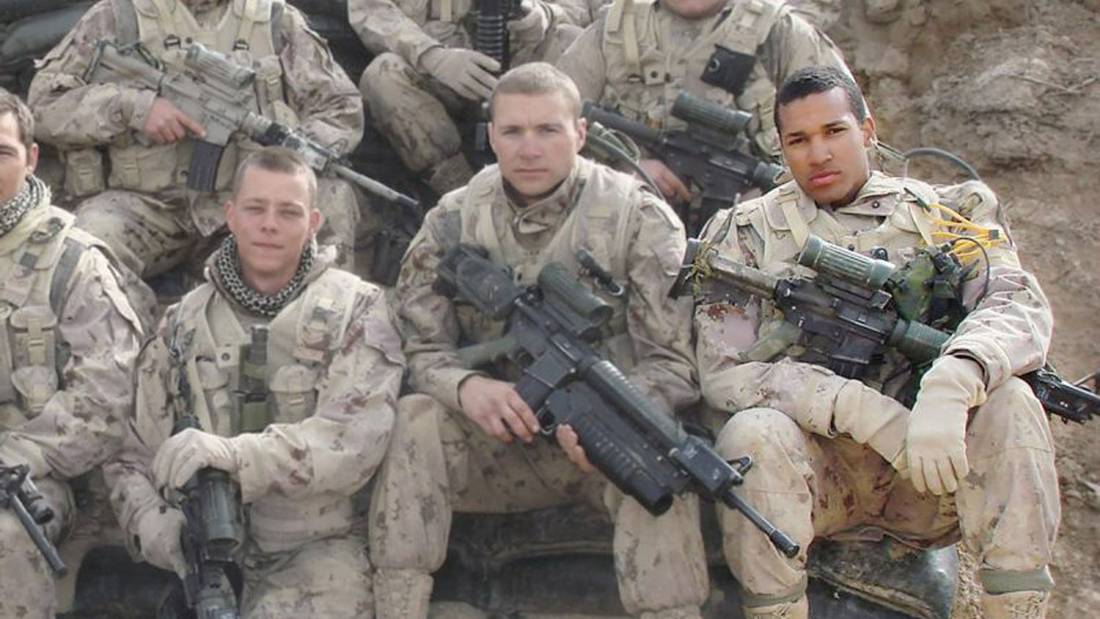 Lionel Desmond, far right, was part of the 2nd battalion of the Royal Canadian Regiment, based at CFB Gagetown.
Here, he is shown in 2007 in Afghanistan's Panjwai district, in between patrol base Wilson and Masum Ghar.
No one knows for sure why, 10 years after serving in Afghanistan, Lionel Desmond took a gun to his wife, his daughter, his mother and then himself. But an investigation by Lindsay Jones sheds new light on the pressing need to better understand soldiers suffering from post-traumatic stress disorder — and to find ways to support them before it's too late.
Behind the vinyl-clad trailer on the hill, the tires on Shanna Desmond's newly leased red Dodge pickup truck are flattened, punctured by knife marks.
Shanna's father, Ricky Borden, is standing in the driveway, which has been churned into a mud pit by the steady stream of police and medical-examiner vehicles. He and a friend fortify themselves with bottles of beer before going inside to tackle the grimmest of tasks: patching the bullet holes that now riddle the walls and ceiling of the home. "Can you imagine having to do that?" he said, staring straight ahead.
Inside the neatly kept trailer in Upper Big Tracadie, N.S., there are blood stains on the beige seats of the bar stools at the kitchen island where Shanna stood; the grout on the kitchen tile floor is tinted darker than the rest. The family's toy poodle was here when Lionel Desmond arrived on Jan. 3. The dog now shakes incessantly, traumatized by what happened when the 33-year-old Afghan war veteran walked into the trailer.
Some time around suppertime, he stepped inside – moving past a decal on the wall that read "Home is where the heart is" — and shot his wife, Shanna, and 10-year-old daughter, Aaliyah, and his own mother, Brenda Desmond. Then he killed himself.
"He went in that house on a mission and there was no way to escape even if they tried," Shanna's mother, Thelma, says. "Whoever was in the house was his target."
Nearly six months later, the Bordens and Lionel's family members are still struggling to understand what happened to Lionel Desmond — and to what extent post-traumatic stress disorder and the support he received after returning from war contributed to the tragedy that has destroyed their families. They desperately want answers, and are calling for the Department of National Defence and Veterans Affairs Canada to investigate the treatment Lionel received during and after his military service. But the federal government doesn't appear interested in calling for an inquiry into the tragedy, despite the lessons it might provide about what soldiers endure during military missions — and what sort of additional support they need to reintegrate into civilian life.